Good Morning everyone!!! Today we are bringing you another fun challenge but first lets announce our top 3 and winner of our last challenge
TOP 3
Leila Cassimira
Sanja GrdiniĆ
Stephanie W
Thank you ladies for sharing your STUNNING creations--don't forget to grab your TOP 3 badge, which can be found by clicking the "Badges" tab at the top of this blog.
Now, the winner of the Freckled Fawn prize is: *drum roll, please!!!*
Woohoo!! Congrats, !!! Please, contact me at vanessa@vssweetideas.com to claim your prize.
Thank you, all for playing along with us last month... As always, your creations were a delight to look at!!! (: We invite everyone to join us again by playing along in the new challenge!!! (;
_______________________________________________________________
VSC # 14 "Washi Tape Theme" Challenge
We want to see what you can create using washi tape. I know many of us crafters just love collecting washi tape (like me!) but sometimes are not sure how to use it on our projects. Well our DT did an amazing job showing us how they used their washi tape and now we want to see what you can do.
Our sponsor
My Craft Spot
is giving away a lovely stamp set perfect for Halloween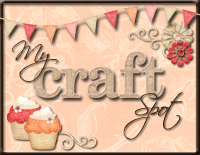 My Craft Spot: I have loved paper crafting for as long as I can remember (since preschool, really!) My Craft Spot started out as a place to share my ideas through pictures and video tutorials. Then I discovered scrunched seam binding! I started hand dyeing the seam binding and now I have over 30 beautiful colors in my store! (I think I am addicted! LOL!) I also have 50 yummy colors of Bakers Twine from The Twinery, Trendy Twine (3 colors twisted together!), Divine Twine, Traditional twine and my own hand dyed Vintage Twine! Last year I started my own line of high quality photopolymer stamps! I now have 35 sets including 5 new sets just released this month. I also have coordinating metal dies! Come visit My Craft Spot for lots of ideas and inspiration, videos and weekly challenges with prizes!
Shipping is always FREE at My Craft Spot within the US and Canada and only $5.00 outside the US and Canada!
Now here is some inspiration by our super talented Design Team
Many of the items used on our DT's cards today can be found in our online

shop.

Just click on their name(s) to be redirected to their blog(s) and you can check out the supplies used.
Hope you were inspired today so that you may get crafty and show us your best "something twine" theme projects yet!!! We are SO looking forward to seeing your gorgeous artwork!!! Thanks so much for stopping by!! (: